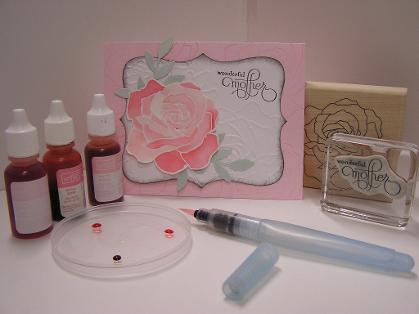 Ink Spread Technique...
Watch ink move like magic!
You will need:
*At least 2 to 3 colors of re-inkers and a lid to put them on
*Shimmer White Cardstock (#101901- $7.95)
*Aqua painter * Spritz Bottle with Water * Open Line Stamp
*Versamark pad, Clear Embossing Powder and a Heat Gun
How to...
First start by Embossing your image on the Shimmer paper. Use your versamark pad, and then cover with clear embossing powder (tap the extra off) and heat with tool until the powder turns to a glossy shine. Do not over heat.
Next, take your image and spritz with water until some puddles collect on your image. Note that the water stays within the embossed lines and does not run away...this is how your re-inkers will act.
Now you can pick up your re-inker colors with the Aquapainter and just lightly touch the puddles of water and like magic...the ink will spread in the embossed area. On the rose in the sample there are many little areas to color in. Try using more than one color in one section for shading.
After you have colored in your image let it dry for 20 to 30 minutes. Most images will look better if you trim them out and layer them on your project.
Thanks and have fun making this technique your own!
Rachel Ann Johnson